News
---
Bahçeşehir Cyprus University is The New Way to Global World
BAU Global Education Network with its universities, language schools and academic centers that spread in three continents, 11 countries, continues to surpass world's barriers with education!
09/10/2017
BAU 2017 – 2018 Academic Year Has Opened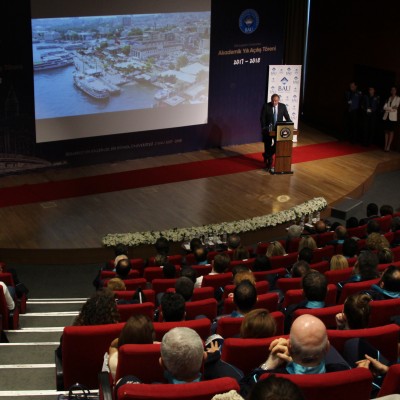 Bahcesehir University (BAU) 2017-2018 Academic Year has been opened with a magnificent ceremony held on September 18th, 2017.
27/09/2017
Real English Education is Now in Turkey
Mentora Language Schools, which is a member of BAU Global, a world brand with its 46 years of experience in international education, is now in Turkey with its qualified and experienced academicians after Washington DC, Toronto and Berlin.
27/09/2017
Enver Yücel Has Made a Call To The Members Of The US Congress
Bahçeşehir Uğur Educational Institutions Board of Directors Chairman Enver Yücel has made a call to the members of the US Congress: "It is not a choice, it is human duty to help Syrian refugees."
19/06/2017
BAU International University Community was Celebrate the Graduation of the Class of 2017
On Friday, May 26, the BAU International University community was proud to celebrate the graduation of the Class of 2017. The ceremony was held at the National Press Club ballroom, where students, friends, family, and staff came together to recognize the achievement of the new graduates.
08/06/2017
BAU Has Been Selected as The Brand of The Year in Education Field
Bahcesehir University (BAU) has been considered worthy of "The Most Successful Brand of The Year in Education Field" Award as part of the "The ONE Awards Integrated Marketing Awards" that was organized by the joint efforts of Akademetre which came to prominence thanks to its studies in the field of consumer research and Marketing Turkey which is one of the crucial journals of marketing sector.
30/01/2017
BAU Global Became Silver Sponsor in ICEF Berlin 2016
BAU Global became silver sponsor in ICEF Berlin2016, the biggest education fair of the world. 1500 international education agencies, 1000 universities and language schools around the world participated to ICEF Berlin 2016, the biggest education fair bringing global education sector together.
09/11/2016
New Education Investment from BAU to USA
BAU International Washington D.C. University established in 2013 under Bahçeşehir University (BAU) Global in 2013 in Washington D.C. opened with ceremony its third student residence in the capital of USA.
12/10/2016
Speaker of Parliament of Turkey Met the BAU International Students
Mr Cemil Çiçek, Ambassador Mr Serdar Kılıç​ and ​their committee ​visited BAU Int​ernational​ ​U​niversity in order to meet with our students. Mr Çiçek met BAU International provost Dr. Walid Phares, who has given ​him information ​regarding our University.
29/04/2016
BAU Students will Analyze the US Presidential Race in the US
Bahcesehir University will take its students to the US under the program entitled "BAU Washington, D.C Political Communication" so that they will be learning about the political communication strategies of the most important presidential race of the world and will be watching the elections closely between January 25- May 16, 2016.
12/01/2016